Summer 2017 Newsletter
Letter From the Director
Summer is here. Are you walking more? Most of the scientific literature suggests that adults and children move more and sit less during the summer. Mood also improves. BMI tends to decline in summer, and even babies born in summer are less likely to have obesity. Death rates are also about 25 percent lower in summer than in winter. Hopefully you are experiencing some of these positive summer seasonal effects, but group trends don't always apply to the individual. As highlighted in this newsletter, some of our Center's research teams are busy trying to understand individual differences in human health, including the role of biopsychosocial and environmental factors.
More Than Thirty Students To Conduct Research This Summer
From studying the effects of bisphenols on the endocrine system to exploring interactions between caregivers and infants during feeding, STRIDE, now renamed to Center for Health Research, students will be busy this summer conducting obesity prevention research. Kinesiology and STRIDE are housing 20 student researchers during July and August, with even more students working for affiliates throughout campus, including faculty members in biomechanics. The sections below highlight these different projects.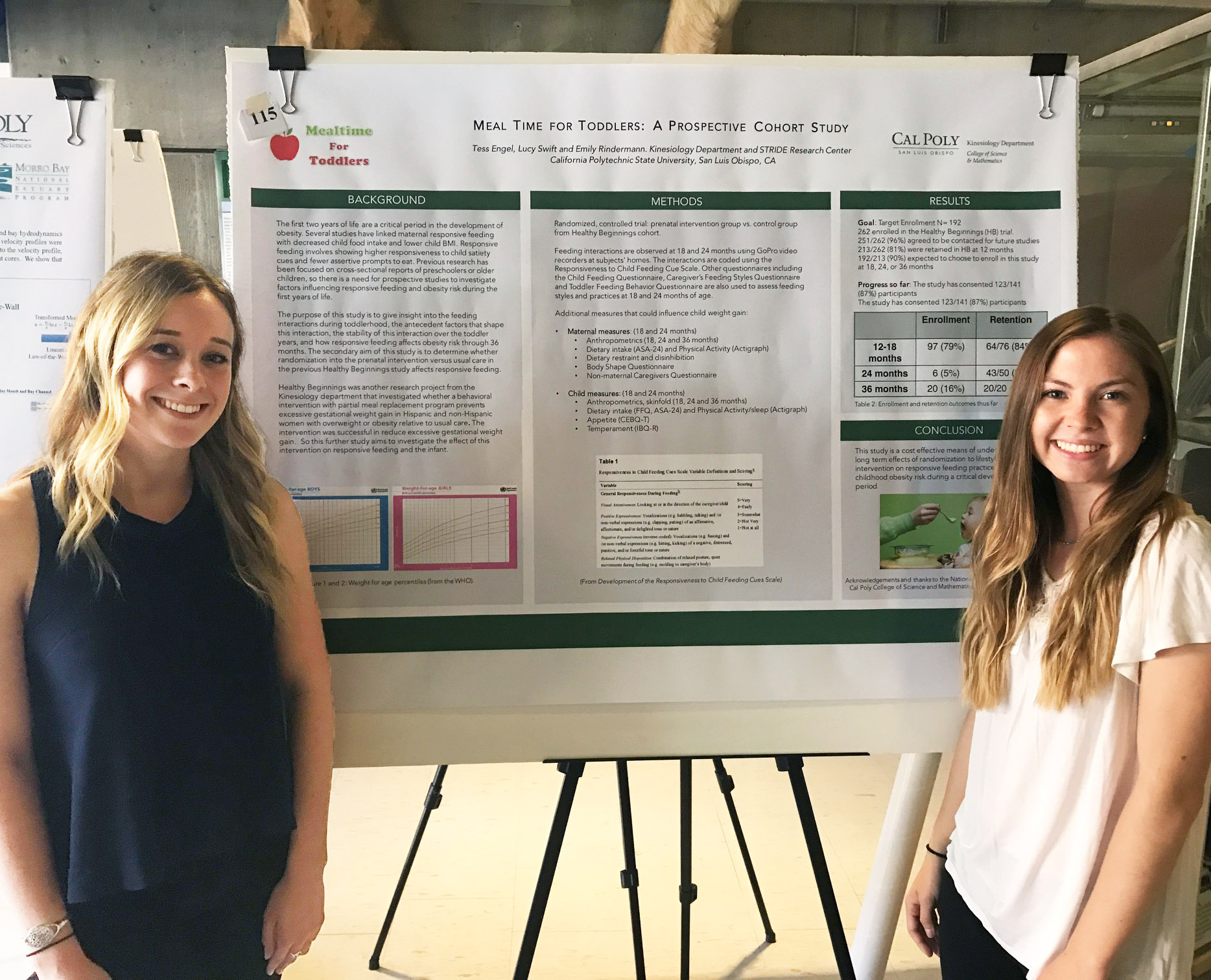 Research Presentations & Conferences Updates
STRIDE personnel were active in local research conferences and presentations this spring. STRIDE advisory board member Jeff Olds was a judge at the 31st annual California State University Student Research Competition, held at Cal Poly in April. The 245 participants in the statewide competition submitted a five-page research report and gave oral presentations before a panel of judges. They were judged on clarity of purpose, appropriateness of methodology, interpretation of results, articulation of research and ability to field questions from the jury and audience. 
---
Faculty and Student Highlights
 
STRIDE Welcomes Professor Sarah Keadle
STRIDE is excited to welcome Sarah Keadle, a new kinesiology faculty member as an affiliate. Keadle joined Cal Poly in Fall 2016, bringing with her extensive experience in analyzing complex activity monitor data and an interest in studying ways to decrease sitting time and increase physical activity. Keadle comes to Cal Poly from the National Cancer Institute. Below Keadle discusses her research and recent publications.
Read more about Dr. Sarah Keadle ›
Researchers Begin New Study of Long-Term Successful Weight Watchers
STRIDE researchers are hoping to better understand shared characteristics among successful long-term weight losers as part of a new collaboration with Weight Watchers. The project, led by Suzanne Phelan, will look at novel factors playing a role in long-term successful weight loss. While the National Weight Control Registry, which Phelan also worked on, identified several characteristics of long-term successful weight losers, this registry will look at new weight loss and weight maintenance strategies.
Researchers Partner With William Sansum Diabetes Center
Family Health Research (FHR) hopes to recruit more participants from Santa Barbara for its Gestational Diabetes Prevention study through a new partnership with the William Sansum Diabetes Center. Researchers launched the National Institutes of Health funded project last summer to examine whether improving weight eating and activity before pregnancy reduces the mother's long-term risk of gestational diabetes. This condition develops during pregnancy and can cause long-term health problems for mothers and their babies.
Read more about the partnership ›
STRIDE Student Publishes Article in Journal of Women's Health
Women receive most of their advice about weight gain and physical activity during pregnancy online or from books, kinesiology senior Adrian Mercado explained in his recent article published in the Journal of Women's Health. The article, "Where Do Women Get Advice About Weight, Eating, and Physical Activity During Pregnancy," appeared in the publication's May edition.
---
More News
Awards
Three STRIDE Affiliates receive Cal Poly grants to start research projects and see other grants awarded to STRIDE affiliates this Spring.
Publication Highlights
STRIDE affiliates published a number of papers in the first half of 2017, including studies on sleep and sitting.
View the list of publications ›
Community Announcements from STRIDE Partners

STRIDE community partners offer opportunities for anyone to get involved in healthy lifestyles, and they're changing and growing.
Read the news from our community partners ›
---
The STRIDE newsletter was written and edited by Suzanne Phelan, Casey Heaney and Susan Staub.
Related Content