Fall 2017 Newsletter
Letter From the Director
It's the time of year when my colleagues and I write our annual Center report.  I am so full of appreciation and pride as I reflect on our progress and accomplishments. STRIDE
, now renamed to Center for Health Research,
has been working diligently on all fronts to figure out how best to promote healthy eating, activity and weight in our community and across the nation. Our faculty, students and staff are winning recognition for excellence in research. Over the past year, we have published 46 manuscripts and delivered countless presentations locally, nationally and internationally. We received more than a dozen externally funded grants exceeding $2.5 million last year alone.
We are learning and sharing — and striving to expand on both fronts. We are improving health and the quality of life across our communities and across the lifespan. I am humbled by our progress.
New Grants Fund Additional Student-Faculty Research
Faculty members were awarded grants to study gender-based violence prevention, increasing physical activity for cancer survivors and the effects of augmented reality on food choices.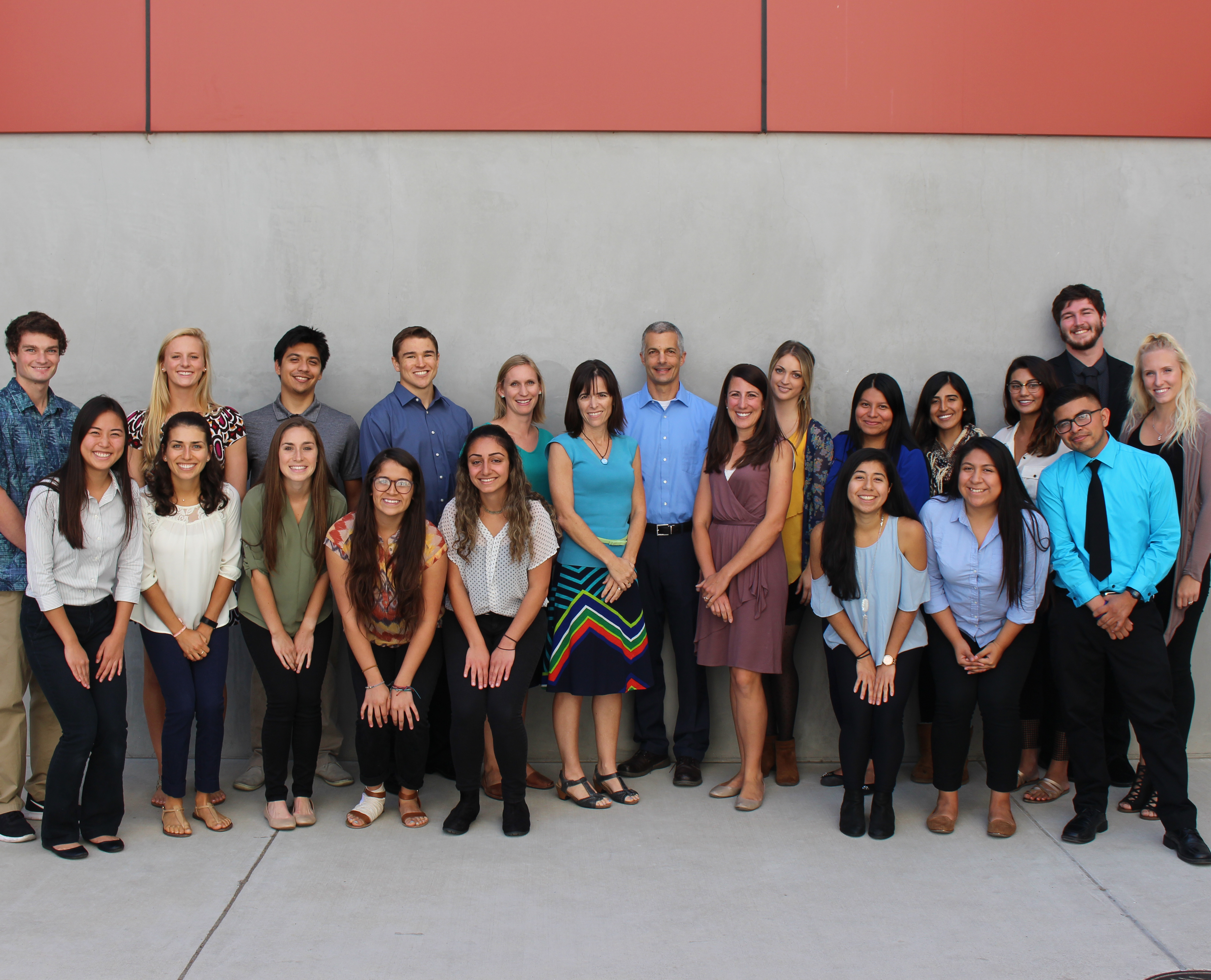 Student Track Physical Activity, Test Effects of BPA and More
Students worked on multiple research projects over the summer and presented their research at campus and professional conferences, giving them a taste of life as a scientist.  
---
STRIDE Presentations
New Seminar Series Highlights Research Findings
A new monthly seminar series featuring health-related research results kicked off in fall 2017. In September, kinesiology Frost Research Fellows presented their findings, and in October STRIDE-affiliated master's students discussed their thesis findings. Upcoming seminars, which are open to the university community, can be viewed below. 
---
Faculty and Student Highlights
Campus and Community Collaborate to Bring the Women and Infants' Mobile Health Unit to the Central Coast
When STRIDE's Women and Infants' Mobile Health Unit begins operating next year, the free health outreach and counseling services will be available on the Central Coast thanks to collaborators across Cal Poly and throughout San Luis Obispo and Santa Barbara counties. The state-of the-art mobile unit arrived at Cal Poly in November equipped with two rooms for exams and education, refrigeration for biospecimens, an area for referrals and space to conduct research.
Read more about the Mobile Health Unit ›
Three New Faculty Affiliates Join the Team
STRIDE is excited to welcome three new faculty affiliates who joined the Center and its network of faculty across campus studying obesity prevention and related topics: two new tenure-track professors in the Kinesiology Department and a social science professor.
Read more about the faculty affiliates ›
Journal of the American Medicine Association Article Reports Successful Weight-Loss Program
Low-income women who participate in an internet-based weight-loss program in addition to traditional state-sponsored programs are more likely to lose and keep off weight gained during their pregnancies, reducing risk for long-time obesity, according to a study published by STRIDE Director Suzanne
Phelan
and her colleagues in the Journal of the American Medical Association (
JAMA
) in June 2017. 
These findings came out of FIT Moms/Mamas Activas, a federally funded program that examines the effects of an online lifestyle intervention to reduce postpartum weight retention in mothers participating in the Women, Infants and Children (WIC) program.
---
More News
Awards
Director Honored with Campus Distinguished Scholarship Award.
Publication Highlights
STRIDE affiliates published a number of papers since Summer 2017.
View the list of publications ›
The STRIDE newsletter was written and edited by Casey Heaney, Susan Staub, Nina Heintz and Suzanne Phelan.
Related Content